Packing Party: Sunday, November 14
Nov 14 @ 11:30am - Packing Party
We will begin our party with a Baked pasta lunch (provided) and then move in groups to the packing room to pack boxes assembly line style. We pray over each box and then stack them to be moved to the collection site the next day. Our goal this year is 250 boxes. We need your help!
Nov 15 @ 9:30am - Transport to Trinity Point
We also need a few individuals to help transport boxes to Trinity Point the following Monday, Nov 15 at 9:30am.
If you would like to pack boxes but are unable to attend our party, please feel free to come in during office hours (M-Th 8-4) November 8-11. If you want to make sure the doors will be open, you can call ahead at 814-226-8233
You can also pack you own boxes at home or build-a-box on their website! Shoeboxes are available in the OCC Room for you to take as needed if you wish to pack your boxes at home!
We are set to pack 250 excellent boxes together this year! There are only a few items left to make our goal. Collection Boxes are located at each entrance if you would like to donate items!
NEEDS:
Hats, Gloves, Flip Flops (any amount)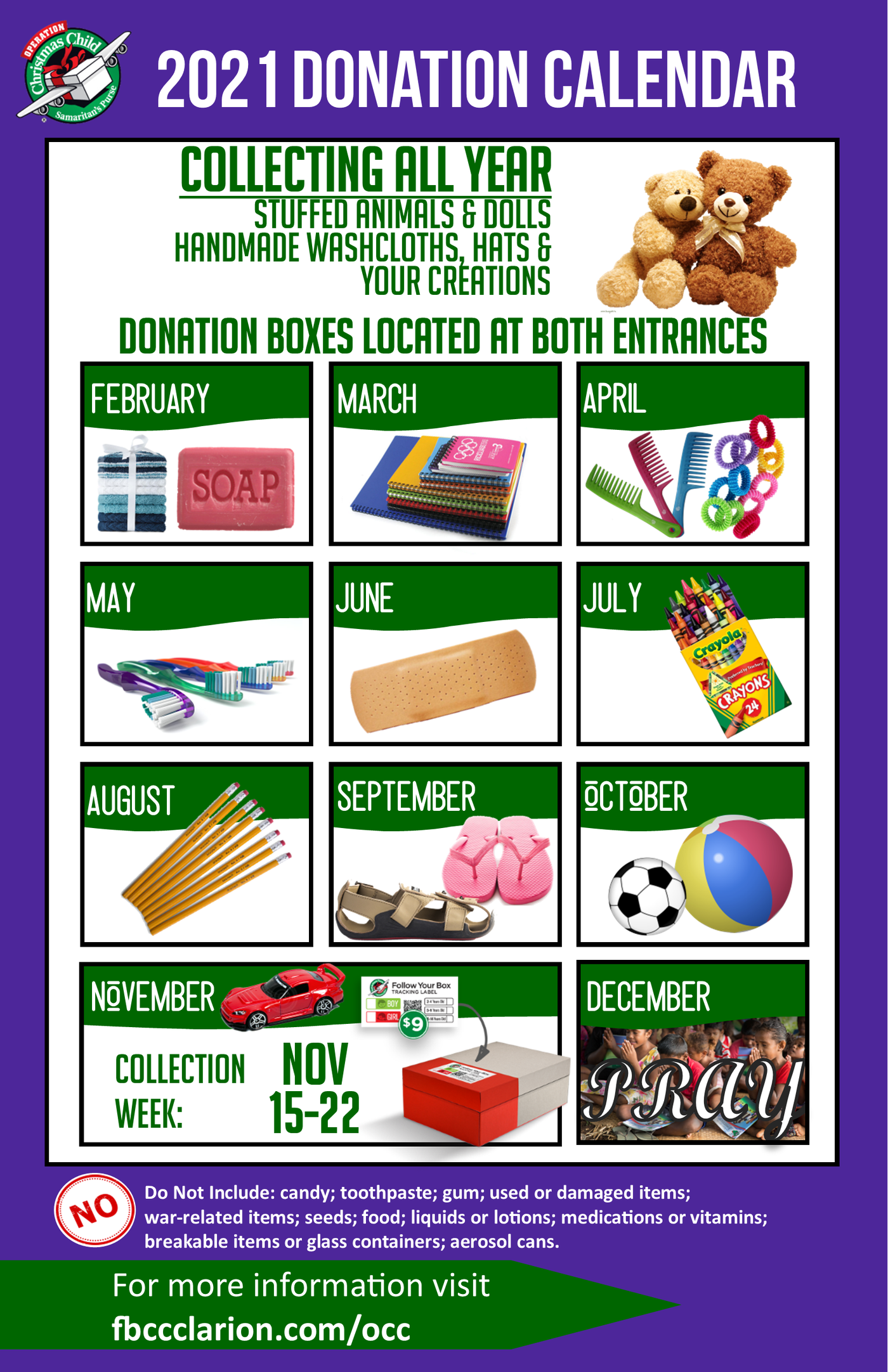 At FBC Clarion, we collect items for Operation Christmas Child all year. See our collection calendar. Then, in November, our yearly efforts will culminate in a party - packing up all these gifts into shoeboxes. You can also work on these all on your own. We keep these shoeboxes at the church if you'd like to shop & pack your own!
Contact: Briana Underhill - briana@fbcclarion.com More About OCC